KNND 1400 AM * Radio with a Difference
Welcome to your hometown radio station... the Mighty 1400!
KNND is your go-to station for country music lovers of all ages. Our independently-owned station provides news, music and community information around the clock. You can also listen to us on FM 99.7 and South Lane Television Channel 47.4.
KNND is a country station with a difference because of our unique line-up of specialty shows produced and hosted by Grovers who have a passion for a particular music genre.
We wish we could have a live DJs broadcasting from behind the red door 24/7, however that is not feasible. When we're not in the studio, the Local Radio Networks' Classic Country format brings you all of your favorites from the 80's, 90's and early 2000's with an occasional tune from the 60's and 70's. We invite you to take a look at our live show descriptions and encourage you to tune in.
Call our studio line 541-942-5548 to share your opinion on Beeper (our weekday morning talk show from 9-10 am), to buy, sell or give something away on Swap-N-Shop (weekday mornings from 10-11 am), and to request your favorite songs during our live shows.
Please call our business line 541-942-2468 to advertise with us, to place a Swap-N-Shop Grapevine Ad, to provide information for our Animal Lost & Found file, or to ask any questions you may have.
---
11th Annual Rock Roll & Rumble Saturday, July 30th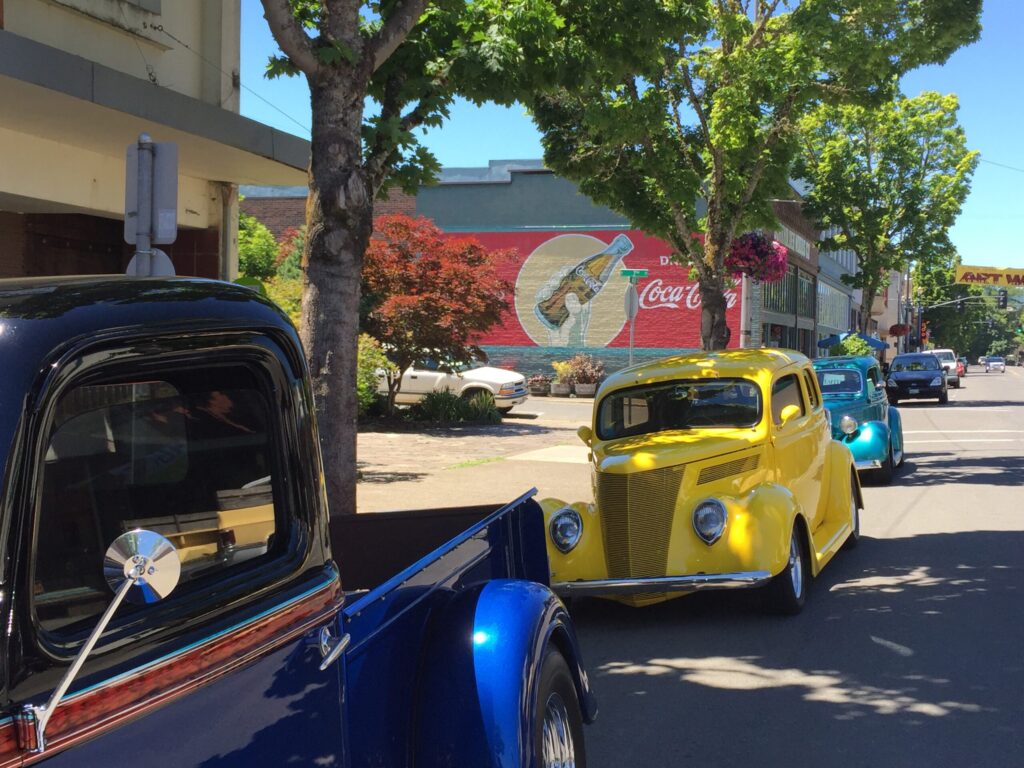 The Grove's summer tradition of classic cars and trucks rumbling down Main Street returns this month!
KNND's staff and advertisers and the Coast Fork Kiwanis Club members invite car-loving individuals and families to bring their lawn chair, cooler and radio to enjoy the cruise along South River Road and in the Historic Downtown District. You can now hear KNND at 1400 AM and 99.7 FM!
The Car Show is back! We encourage car owners to pre-register on Friday night at Hamilton's Auto Sales (101 N. 9th Street) from 5-7 pm. Enjoy complementary pizza and pop and meet other gearheads in The Grove.
Car Show from 8 am - 3:30 pm Registration Table is in the U.S. Bank parking lot on Whiteaker Avenue between 6th & 7th St. Cars will be displayed on Main Street between 5th Street & Hwy 99. We have 20 trophies up for grabs in multiple categories. Fee: Car Show & Cruise $20 (includes goodie bag & dash plaque)
Poker Run from 11 am-2 pm, Historic Downtown, Win gift certificates & prizes from local businesses. Entry Fee: $5
Cruise from 6-8 pm, Cruise Check begins at 5:30 pm at CG High School Parking Lot at 1375 S. River Rd. There is no vehicle year limit. If you have a cool car or truck to show off, you're welcome to cruise it along scenic South River Road and through Cottage Grove's Historic Downtown District. Cruise Only Fee: $10 (includes dash plaque)
The Route: North on South River Road from Cottage Grove High School, east on Main Street, north on Eighth Street, west on Whiteaker Avenue, south on Sixth Street, west on Main Street and south on South River Road to the high school.
After Cruise Party from 8:30-10 pm: Enjoy a lively evening street dance in the large city parking lot next to Stacy's Covered Bridge Restaurant at 5th & Main. Stacy's sells food and drinks during the party for your enjoyment. Turn back the clock and enjoy the car and surf songs from the 50's & 60's performed by the band Four
Wanna a collectible T-Shirt? Large $10 IXL & 2XL is $15 (no small or med sizes)
For more information call 541.942.2468.
Display our Registration Form (PDF) for download
---
What's Going on in The Grove...
Check out the information to be a Grover in-the-know...
Read more
---
KNND LIVE SHOWS
KNND is a country station with a difference because of our unique line-up of specialty shows produced and hosted by Grovers who have a passion for a particular music genre.
Read more
---