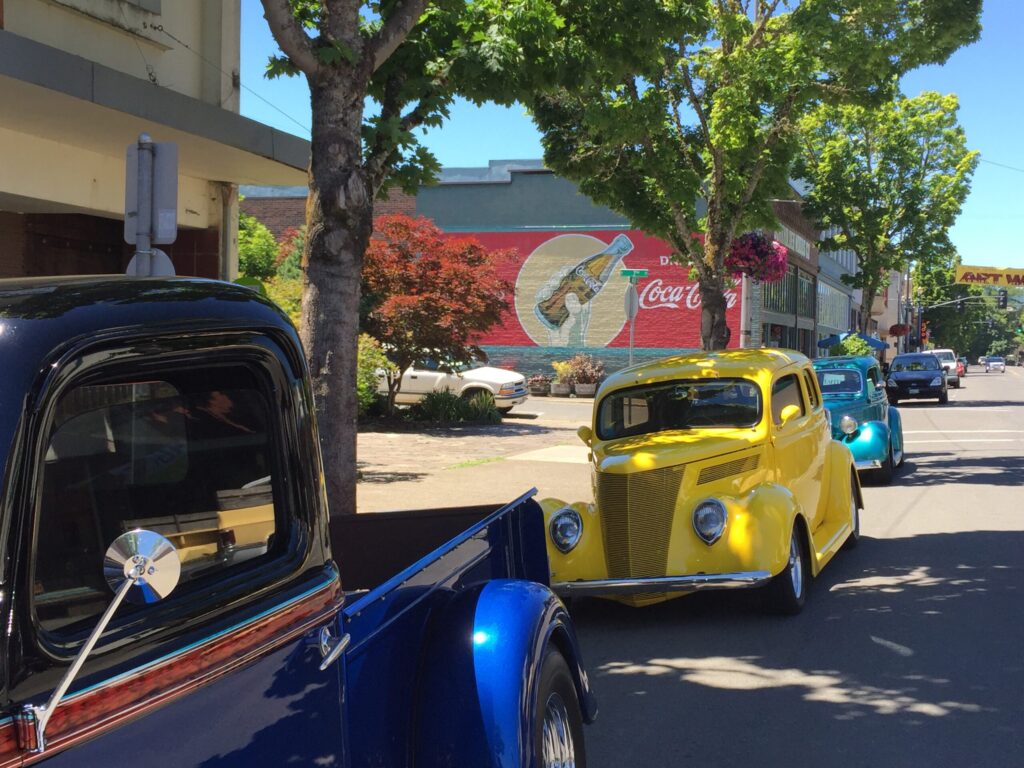 The Grove's summer tradition of classic cars and trucks rumbling down Main Street returns this month!
KNND's staff and advertisers and the Coast Fork Kiwanis Club members invite car-loving individuals and families to bring their lawn chair, cooler and radio to enjoy the cruise along South River Road and in the Historic Downtown District. You can now hear KNND at 1400 AM and 99.7 FM!
The Car Show is back! We encourage car owners to pre-register on Friday night at Hamilton's Auto Sales (101 N. 9th Street) from 5-7 pm. Enjoy complementary pizza and pop and meet other gearheads in The Grove.
Car Show from 8 am - 3:30 pm Registration Table is in the U.S. Bank parking lot on Whiteaker Avenue between 6th & 7th St. Cars will be displayed on Main Street between 5th Street & Hwy 99. We have 20 trophies up for grabs in multiple categories. Fee: Car Show & Cruise $20 (includes goodie bag & dash plaque)
Cruise from 6-8 pm, Cruise Check begins at 5:30 pm at CG High School Parking Lot at 1375 S. River Rd. There is no vehicle year limit. If you have a cool car or truck to show off, you're welcome to cruise it along scenic South River Road and through Cottage Grove's Historic Downtown District. Cruise Only Fee: $10 (includes dash plaque)
The Route: North on South River Road from Cottage Grove High School, east on Main Street, north on Eighth Street, west on Whiteaker Avenue, south on Sixth Street, west on Main Street and south on South River Road to the high school.
After Cruise Party from 8:30-10 pm: Enjoy a lively evening street dance in the large city parking lot next to Stacy's Covered Bridge Restaurant at 5th & Main. Stacy's sells food and drinks during the party for your enjoyment. Turn back the clock and enjoy the car and surf songs from the 50's & 60's performed by the band Four
Wanna a collectible T-Shirt? Large $10 IXL & 2XL is $15 (no small or med sizes)
For more information call 541.942.2468.
Display our Registration Form (PDF) for download